The Web Pages configuration screen contains a WYSIWYG Editor for editing your website pages. WYSIWYG stands for "What You See is What You Get". This means that the editor allows you to visually design a website by directly adding and formatting content (text, images, and other objects) without having to write HTML code. The HTML is automatically generated. The web pages you design will be fully responsive. This means that the website will adapt its layout for optimal viewing on different-sized devices.
Prerequisites
You must have administrator or web developer access to use this feature
To Load the Website Pages WYSIWYG Editor:
Log into your DecoNetwork Website.
Browse to Admin > Websites.

Select Manage for the website you want to configure.

Select Edit Website, then Website Pages.

The Website Editor will load in the Admin area.

To return to the main menu, click on the hamburger icon in the Top Bar.
Website Editor User Interface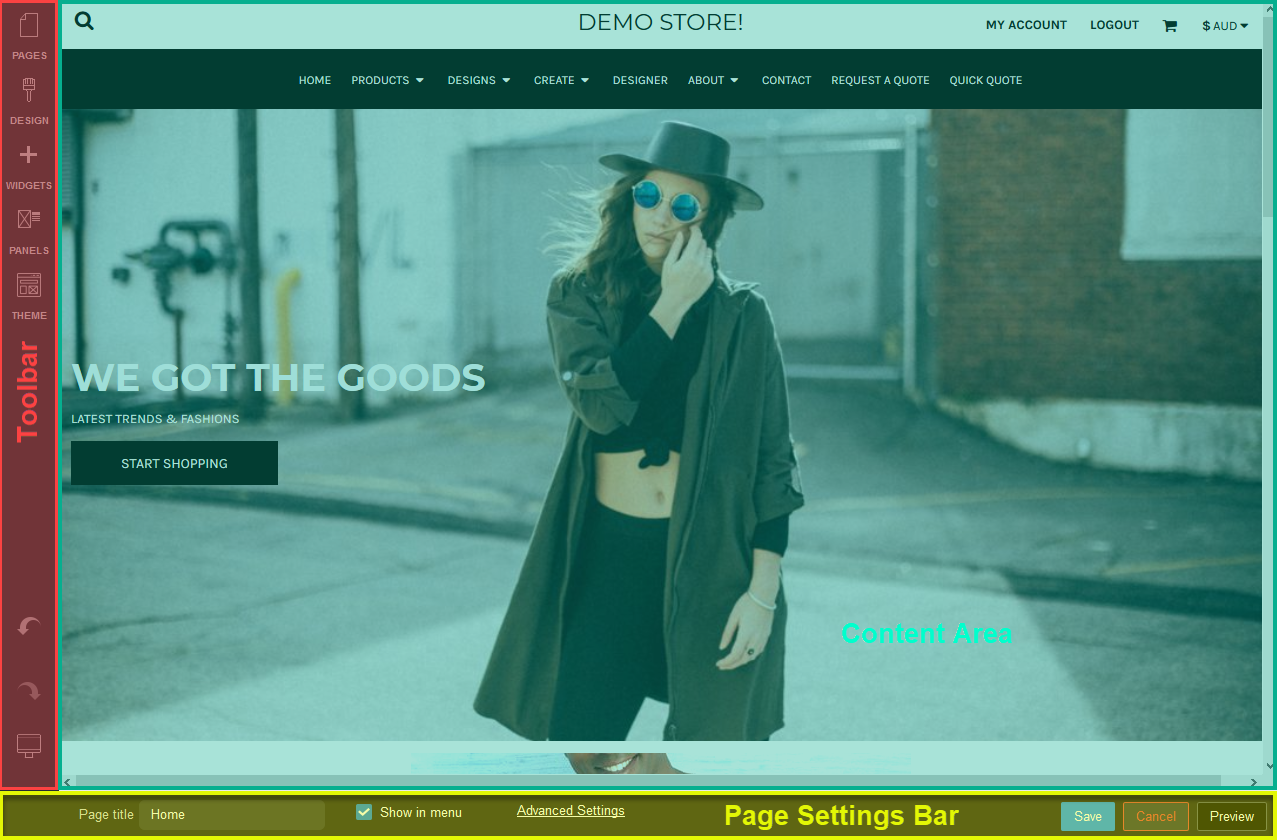 Toolbar
The toolbar contains the main tools for editing your website pages.
The four buttons at the top of the toolbar each open a flyout tab that contains a set of features allowing you to add content, edit and design your website pages:
(Click on the links above to see more information about each of the tabs)
By default, the flyout will close each time you click within the Content Area. If you want the flyout to stay open, you can lock the tab in place using the pin icon.
To lock a flyout tab in place:
Click on the pin icon at the top left of the flyout.

The pin icon will be shown as pushed down to indicate that the flyout is locked in place.

Click on the pin again to release the flyout.
The functions of the three buttons at the bottom of the toolbar are as follows:
The Undo button lets you undo one change each time you click it.
The Redo button lets you redo one change each time you click it.
Emulate your web page in a range of different device sizes:

Mobile Device
Tablet Device
Desktop
Wide-screen Desktop
Content Area
The Content Area is the main part of the screen where you design your web pages and edit your page layout. You can drag and drop widgets into the active page and customize each widget within the Content Area. Click here for details on how to edit your pay layout.
Page Settings Bar
The Page Settings Bar is where you configure the accessibility, basic page information and meta information of the page you are editing. It is also where you manage the saving, previewing and publishing of edits you have made to the current page.