The Overview page enables you to monitor your production workload and process orders in bulk. Bulk processing actions you can apply to orders include, Raise Purchase Order, Mark as Produced and Mark as Shipped. Only users with Administrator, Production Manager or Production Team roles can access the Overview page.
On this page, you can see all your orders listed in a table showing the order number, customer name, order date, due date, and the status of the order for of each stage of the order process by default. Other information can be made visible using the Fields filter. Click here for instructions.
Click the image to enlarge.
Alert icons that are shown in the # column in the Orders page are also visible in the Production - Overview page.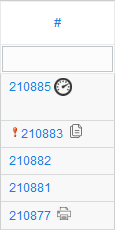 Click here for an explanation of each of the icons.
Order Status
The order table includes a visual indicator of each stage of processing each order has fulfilled:
Paid: indicates whether an order has been fully paid.
Ordered: indicates whether a purchase order has been raised for the stock required to fulfill the order.
Received: indicates whether stock required to fulfill the order has been received.
Artwork: indicates whether artwork for the order has been approved.
Production Status: indicates the current status of the order in the production process. You can set production statuses in the Production page for each order item. Click here for instructions on how to set production statuses.

Order items in a single order can be in different states of production. This is shown by the cell being shaded in multiple colors representing the statuses of all order items. The size of each shade is proportionate to the number of items in that state.

Produced: indicates whether production of the order has been completed.
Shipped: indicates whether the order has been shipped.
Filter Orders Placed on Hold
You can choose to show or hide orders which have been placed on hold by ticking/un-ticking the Include Orders on Hold checkbox.
Product Details
You can expand the row of an individual order to see details of the products ordered by clicking on the down arrow at the end of the row. (Click on the arrow again to contract the row).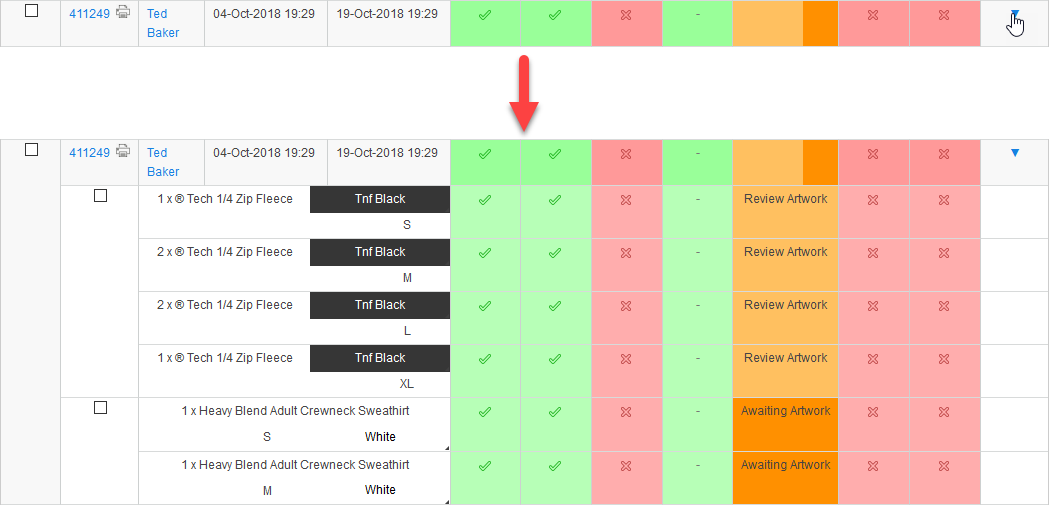 Click the image to enlarge.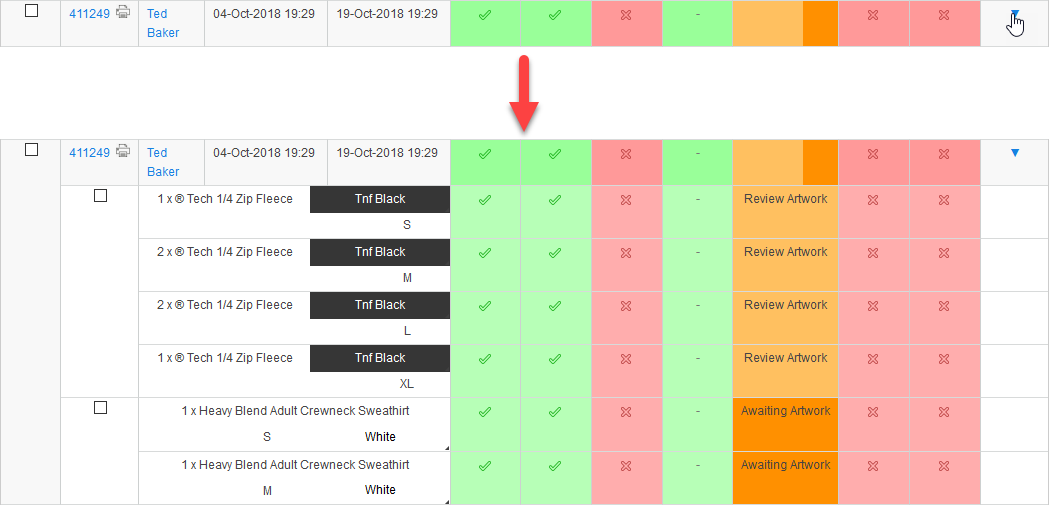 You can expand all rows at once to reveal the order details by ticking the Expand all Orders checkbox. Un-tick the checkbox to hide the order details.
To customize the fields displayed in the Production Overview table:
You can customize the information displayed in the table by selecting fields in the Fields filter popup.
Click on the gear icon in the last cell of the header row.

The Field filter table is displayed.

Tick the checkboxes for the fields you want to be displayed and un-tick the checkboxes for the fields you do not want to be displayed.

Note, you cannot un-tick the checkboxes for the # and Customer fields.

Click okay.