Pricing tables allow you to define how customers are charged for decoration services using more sophisticated methods than a flat fee, and this includes setting prices based on order line volume. The price tables set the pricing on a per-order line basis - like products of varying sizes will be on the same order line, provided they are in the same color. Different colors will always be a new order line. Each decoration process has its own unique set of pricing variables which are outlined below. Creating a price table does not activate its use for the decoration method, the price table (you may define many) must be selected as the active price table for each decoration process.
Price Tables are activated in Admin > Decoration Processes > Decoration Pricing by setting the decoration process to Price Table, and then in the Price Table drop-down box select the price table you wish to use.
Price tables set the default price for products to which that default applies. For example, EMB price tables will set pricing for all products that use EMB, or for a group/category of products that use EMB as configured in the Product Group. As always default pricing may also be overridden at the product level by editing a product's pricing tab.
Product Groups add a layer of configuration between global settings that affect all products and product-level settings that only affect a single product. Product groups affect all products that are set to use the group.
Prerequisites
You must have administrator access to use this feature
To configure a price table
Browse to Admin > Decoration Processes > Embroidery > Price Tables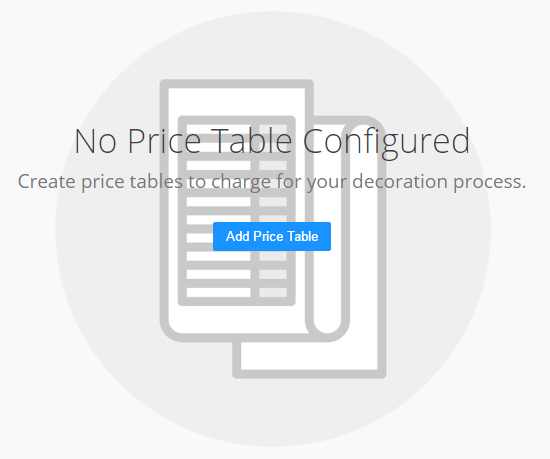 If you are configuring price tables for the first time, click Add Price Table.
If you want to edit an existing price table, click on the Edit button beside the price table you want to edit.
Embroidery Price Tables
Embroidery price tables allow for configuration based on the volume of product per order line and the number of stitches per decoration area used.
Name your table.
Rows sets how many levels of stitch count you want in your table.
Columns sets how many levels of volume discount you want in your price table.

Quantity From sets the product limits of the volume discount levels.

To column sets the stitch count limits for each price level based on stitch count.

Complete the table by setting the price for the total amount of stitches per decoration area, for each volume discount level.

When complete, click Save.