A product is any item that will be sold by your business, be it a tee, shorts, hat, bag, phone case - anything. Most of these products will automatically inherit their default behavior and appearance from the catalog from which they are imported, and there are many cases when you need to either change this configuration or set it up from scratch. The products area lets you set up every aspect of product configuration.
Prerequisites
You must have administrator access to use this feature
In this article, you will learn how...
How products get into DecoNetwork
Products can be entered into DecoNetwork, and ultimately for sale in a few different ways. The most common method is by using a supplier and importing the products in their catalog that suit the decoration processes you support. Suppliers and their catalogs are set up under the Select Catalog submenu item.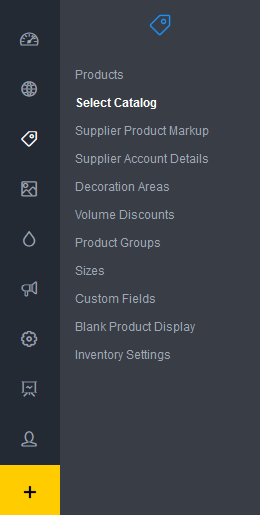 You can also pick specific products from a supplier using the Add Supplier Product function, which is found on the Products page.

Also on the Products page is the ability to Add Custom Product, which allows you to specify every aspect of a product from scratch. This may be useful if you manufacture your own supply
Additionally, a one-off or limited-run nonstandard product can be created on the fly inside of Business Hub when creating a Quote or an Order by using the Add Free Form Product button.

How product pricing is set
In its most basic sense, product pricing is set as a recommended retail price, through which you, the Fulfilment Center, will offer a sales commission to the store that sold your product (the seller may be yourself, and if you are on a Standard plan this is always the case). The RRP is reached by the web store marking up the cost of the product (effectively the web store's wholesale price), then applying costs for decoration. On top of this shipping and taxes will be calculated. The total price to the consumer is automatically calculated by DecoNetwork based on the options you have selected for pricing. These options are set under the Supplier Product Markup submenu, under Websites > Store Commission > Commission Rate and Settings > Shipping, and Settings > Taxes. It also possible to set up extra fees related to artwork, decoration processes, and one-off fees as required. For a deeper discussion about how pricing works, see the help article "How Pricing and Commission Works".
How default configuration and behavior is set
A default is the basic configuration and behavior of an object. For products which are created from catalogs, these defaults are set by the DecoNetwork catalog team and used by the product when it is imported into DecoNetwork. To further refine what default values go to what products, default values are categorized into groups of products with common properties called Product Groups. For example, apparel, mugs, mouse mats, bags, and aprons are all Product Groups. The reason for this is that the properties of one group are often not common to another, for example, the properties of a shirt are not particularly similar to those of a mug. Product Groups set, amongst other things, the category the items will appear in, available decoration processes, discounts, purchase order workflow, production time, shipping dimensions, minimum quantity, bundling, markups, and sizing (and much more). However not all configuration items are set by Product Groups, and these are set at either a global level or specified by the product itself.
It is possible you cannot see what your Product Group settings are, and this is because these settings are hidden by default. To view Product Groups you must add the app "Product Groups." Product Groups are not required unless you are attempting some more advanced configurations of your product lines.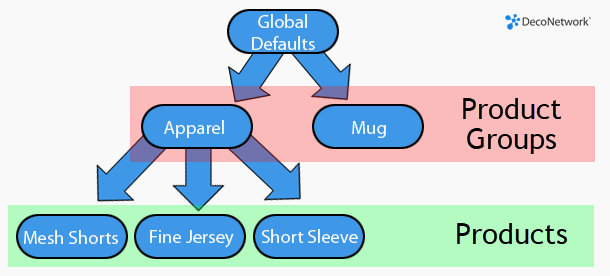 If a Product Group does specify a value of a certain object property it can always be overridden by setting that same value at the product level itself. For example, the apparel Product Group may have the default sizes of S, M, L. The product itself may configure sizes as either "use default" or "specify." Therefore, setting "use default" will configure the product to have sizes S, M, L as per the default values. "Specify" lets you override the Product Group and configure your own available sizes.
How to configure a product
The nuts and bolts configuration of a product takes place when you select it from the product list screen, which in turn opens the product editing screens. Each item in the inner menu will take you a different configuration area.

For more information about product configuration, each inner menu item has its own help article which can be reached using the menu on the left of this page.