Related products are products that you can associate with a particular product in order to promote them to a visitor who is viewing a product page in your online store. Related products are not generated automatically. Your input will be required to build this list, which appears in the 'Related Products' panel of a product web page.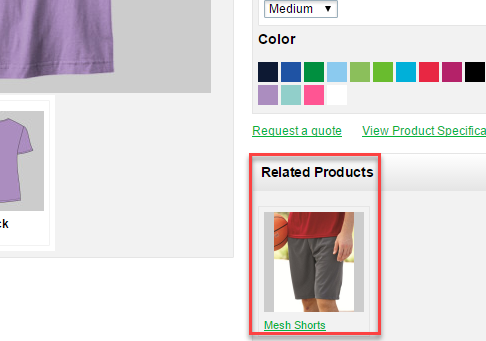 Prerequisites
You must have administrator access to use this feature
To set related products:
Log into your DecoNetwork Website.
Browse to Admin > Products.

Select a product to configure by either:

Clicking on the product code.
Clicking on the product name.
Clicking on the Manage button beside the product you want to configure, then selecting Edit Product.

The product properties will be shown in the main work area, with a menu at the left to select property categories. General will be selected by default.

Select Related Products from the product properties menu.

The main work area contains a list of previously configured related products and the controls for adding and deleting related products.

Add/delete related products, as required.

Click the Add Product button to specify a product that will be related to the current product.

Using the search box and treeview, find the product you want to relate to the product you are configuring and select it.

The selected product is added to the list of related products.

Repeat steps 1 - 2 for each product you want to relate.
Delete any products you want to dissociate with the current product by clicking the Delete button.

Click Save or Save and Continue when done.

Reciprocally related products are not automatically configured! That is, the product being configured does not automatically become a related product of products that you associate with it.