The Product List displays all products that are available in your DecoNetwork that have been added by either importing products pre-configured by your selected suppliers, or by configuring your own custom products. Once added, products can be categorized and edited to suit your business needs.
Prerequisites
You must have administrator access to use this feature
To view the Product List:
Log in to Admin
Click Products
The main work area shows a list of categories of products, a search bar, and a list of products selected from supplier catalogs and other products you have added to DecoNetwork.
Categories
For the purposes of searching and arranging your products, supplied products are assigned to categories. The left section of the main work area lets you manage your categories. A product will appear in the category to which it is assigned in the Product Listing tree view. It will also appear in that category in any web store in which that category is displayed.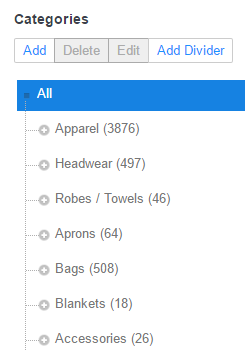 Add will create a new category that is added to the bottom of the categories list. When adding a category, you will decide on its name and choose the thumbnail image that will be used to represent it.

Dragging and dropping a category will move it to a new location within your category structure.
Delete will remove the category. For this to succeed you must first delete or move products out of that category.
Edit will let you rename and change the image thumbnails for the category.
Add Divider will let you insert a horizontal dividing line after the selected category.
Sort

Clicking Sort will open the Sort screen, which allows you to manually re-arrange the display order of your products.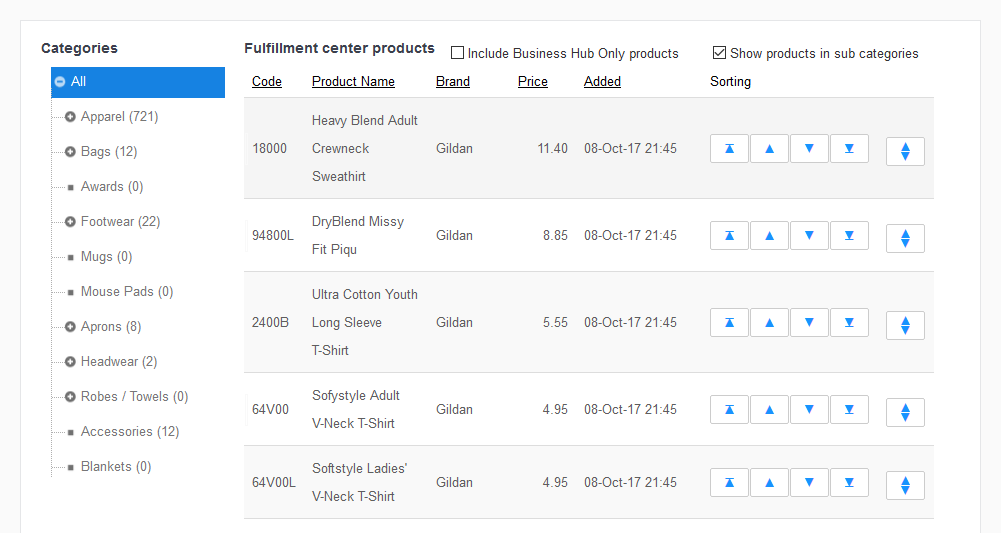 The Show designs in sub categories checkbox, when ticked, will show the designs contained within all the sub-categories as well as the main category when a main category is selected. Leaving the Show products in sub categories checkbox ticked will allow you to sort the products globally across all categories. Un-ticking the Show products in sub categories checkbox will allow you to sort within each individual category.
The root node of the tree view "All" will not be affected by the Show products in sub categories setting as every product belongs to the "All" category, regardless of its specific category setting.
Use the arrow buttons to move a design up or down. The arrow button with a line above will move a design to the beginning of the stock designs list. The up arrow button will move a design up one place. The down arrow button will move a design down one place. The arrow button with a line below will move a design to the end of the stock design list. Clicking and holding down the button with both up and down arrows allows you to drag a design to a different position in the list.
Import
The Import button contains the option to Import Products, and the option to Import Inventory Levels.

Add New Product
Via the Add Product button, you have the option of either Adding a Supplier Product or Adding a Custom Product