You can integrate your DecoNetwork store with ShipStation to enable your orders to be synced at the click of a button, allowing you to get live shipping estimates in DecoNetwork and to manage the shipping of your orders in ShipStation.
In this article...
To connect your DecoNetwork store to ShipSation:
Log in to your ShipStation account.
Click on Account Settings (wrench icon at the right of the top toolbar).

Click on Selling Channels in the left menu, then select Store Setup.

Click on the + Connect a Store or Marketplace button.
Click on the Custom Store tile.

The Connect your Custom Store popup is displayed.

Enter your store's marketplace connection URL as displayed under Admin > Settings > Shipping > ShipStation Order Sync.
Enter credentials for a user assigned the Administrator role on your DecoNetwork account.
Enter the order mapping statuses as follows:

Awaiting Payment Status: ss_unpaid
Awaiting Shipment Status: ss_paid
Shipped Status: ss_shipped
Cancelled Status: ss_cancelled
On-Hold Status: ss_on_hold

Click on the Test Connection button to ensure that the URL is entered correctly.
If the test is successful, click Connect.

Once connected, you will be redirected to your ShipStation account, where you can configure the settings for your DecoNetwork store.
To import and sync your DecoNetwork orders in ShipStation:
Once you have connected your DecoNetwork store, your orders will be automatically imported into ShipStation. By default, ShipStation uses an auto-update feature to periodically import new orders and sync already imported orders from your store. For this reason, it is recommended that you use the manual import command to ensure that you are working with your most recent orders and up-to-date orders.
Only orders with the statuses, awaiting_production, awaiting_shipping, shipped, and canceled will be synced. Orders which are awaiting payment, on hold, awaiting PO, and awaiting artwork will not be synced.
If you have affiliate stores, orders from all stores will be imported under a single custom store within ShipStation.
Import your orders into ShipStation by using the Import icon at the right of the top toolbar.

To import orders from all connected stores, click Update All Stores.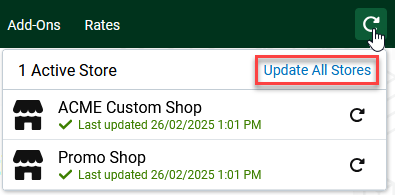 To import orders from an individual store, click on the refresh icon next to the store's name.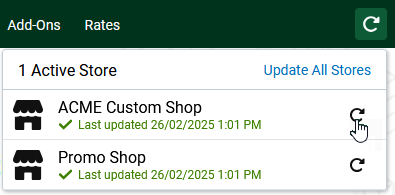 ShipStation will display a popup notification to let you know when the import is complete. The import may take a few minutes depending on the volume of orders.